Culinary Q&A - Chef Brian Hirata
Culinary Q&A – Chef Brian Hirata
A passionate chef's mission to source native ingredients that highlight the plate

Story by Krystal Kakimoto
Images by Andrew Richard Hara
The soft-spoken, thoughtful demeanor of Chef Brian Hirata is a beguiling cover for the deeply passionate and forward-thinking chef behind a movement aimed at preserving Hawai'i's food culture while progressing local cuisine. A 2022 semifinalist for the James Beard Award in the Emerging Chef category, Chef Hirata was born and raised on the island of O'ahu and grew up in a family where food played a central role. Whether spending days with his cousins hunting game that they would later eat or watching his family gather in the kitchen to prepare large meals together, food has always served as a conduit for gathering people.
After spending 12 years as an instructor in the Culinary Arts Program at Hawai'i Community College serving as program coordinator, Chef Hirata struck out to pursue his passion project, Na'au Hilo. Na'au, a Hawaiian word meaning guts, intestines, and the place where we know, is the concept behind his movement to re-connect individuals with local ingredients while using each dish as a conversation starter between chef and guest to discuss the state of local ingredients. Through his years as a chef, he has seen the over-taxation of local environments and ingredients to the point where we are now at a critical juncture, a place where we can take the steps to reinstate native ways of sourcing ingredients, preparing dishes to highlight the beauty of local ingredients, and reconnect with the food identity of the past.
With foraging, fishing, hunting and diving being so central to Na'au, how were you able to acquire these skills?
I was fortunate that we had access to a beach house that we would visit every summer that was in Puakō along the Kohala Coast. I spent a lot of time there when I was growing up and that is where I learned to fish and dive. During breaks from school, I hunted with my cousins on the Big Island and eventually went to college on the Big Island, so I did a lot of these activities so often that it became ingrained in me.
What role did food play in your family when you were growing up?
Food was always a large part of my family. We used food as an opportunity to bring the family together and we would have these huge, banquet-sized meals during the holidays. My family, being Japanese, would make mochi during the week of New Year and gather as many family members as possible together.
What led you to a path in the culinary arts?
I never considered a career in the culinary field until I was in college. During my sophomore year of college, a bunch of friends and I decided to move into our own apartment, and we were suddenly forced to cook for ourselves. I started cooking most of the meals and discovered I really liked it. I ended up transferring to the culinary program the next year. My first kitchen job was on the island of O'ahu where I worked for a husband-and-wife couple that ran an upscale food truck. I would help them load the truck for service and prep for catering events.
You eventually made your way back to the Big Island to work under Chef Alan Wong at the Hualālai Grille by Alan Wong. What were some key takeaways that you learned from Chef Alan?
There is just so much. I started working at Hualālai Grille by Alan Wong as a Cook II and applied for the position after my best friend and his girlfriend, who was living in Waikoloa Village, said there was an opening, and that if I wanted to move back to the Big Island, I should apply for the job. After three separate interviews, I was offered the job and moved back to the Big Island in 1999 and eventually worked my way up to be the sous chef. There is so much from Chef Alan that I hold onto. I do not even know where to start! Aside from the technical cooking that I learned under him, I gained a lot of things like learning to "fail forward," and that it is okay to make a mistake if you learn and grow from them.
Where did you get the inspiration to create your Na'au Hilo project?
I think the catalyst for all of this began when I was an instructor in the Culinary Arts program at Hawai'i Community College. A large percentage of my students identified as Pacific Islanders or Native Hawaiian, yet they were not familiar with a lot of the local and native ingredients found in Hawai'i. For whatever reason, the local food knowledge was not being passed on to the next generation, and that is what led me to design this project. A long-term goal of mine was to integrate the educational component of Na'au Hilo. We are doing this with my current staff where I take them on foraging expeditions. We cook with the ingredients—they get to see, taste, touch, eat, cook and plate the ingredients and then share this with the guests. For me, the best type of food education is hands-on; and my theory is that my staff will not stay with me forever, but they might stay a few years and continue on their career path taking what they learned from me and perpetuating this in their own fashion.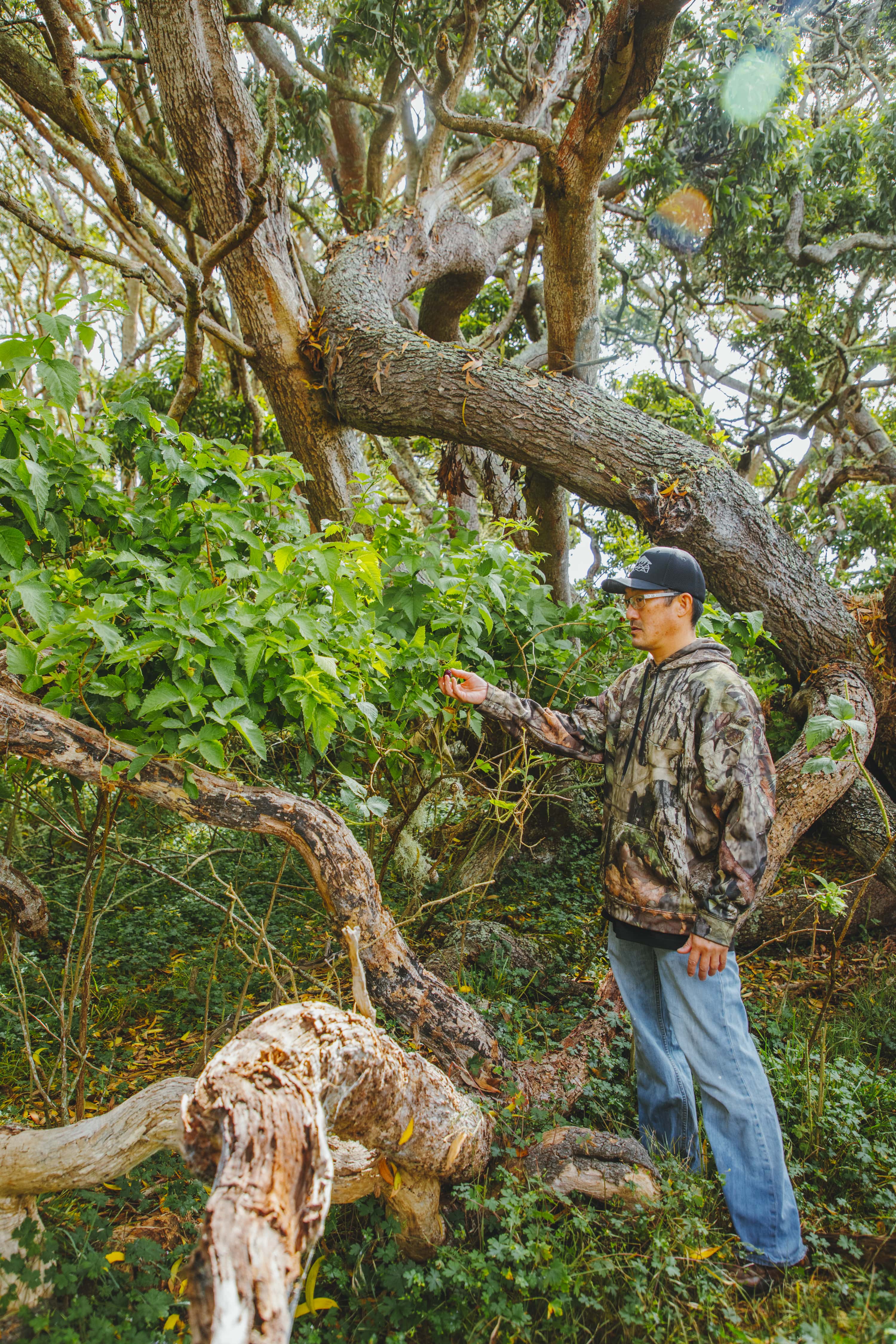 `ĀkalaBerryGoatCheesecake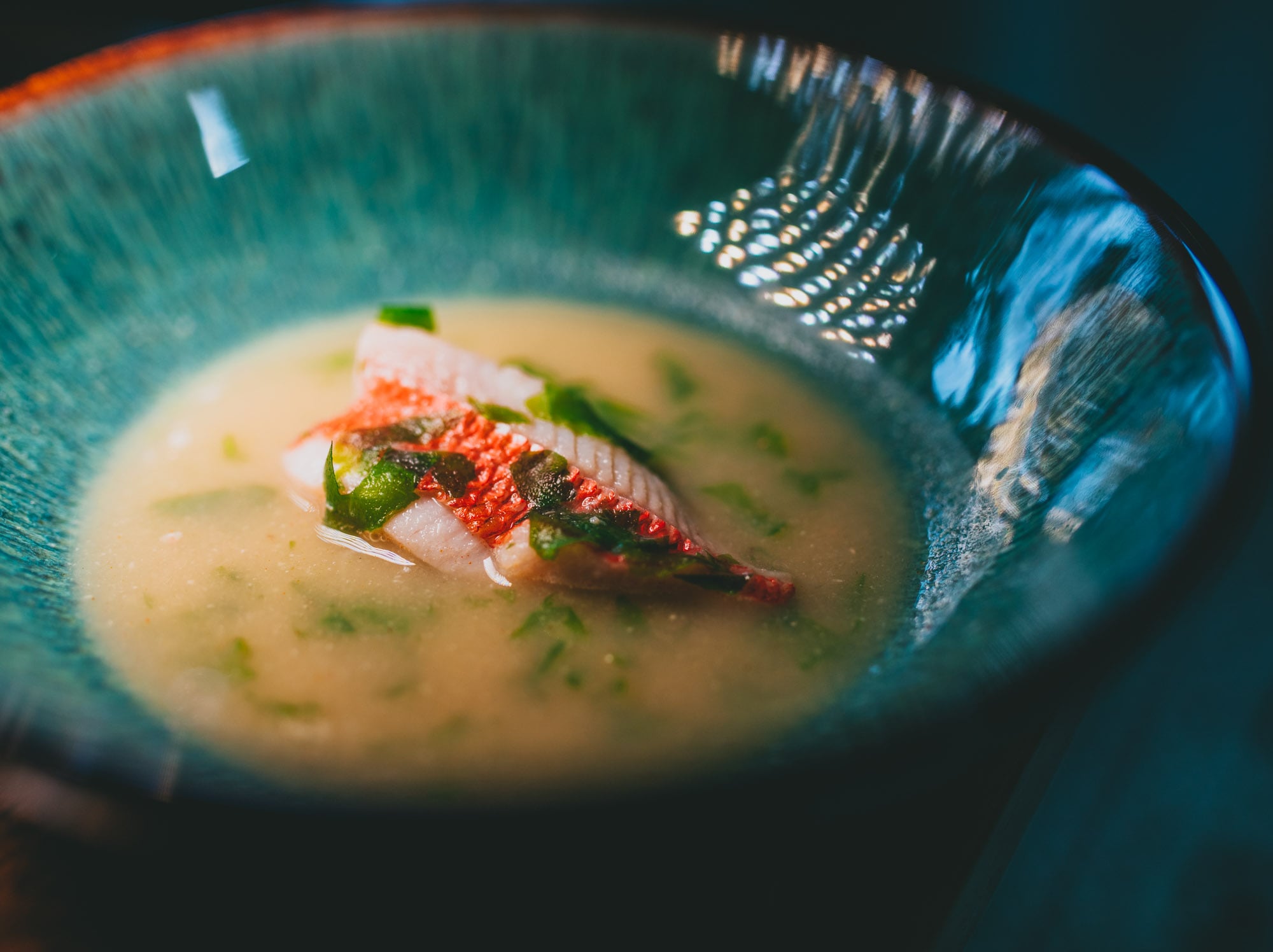 SpicyMenpachiUluMisoSoup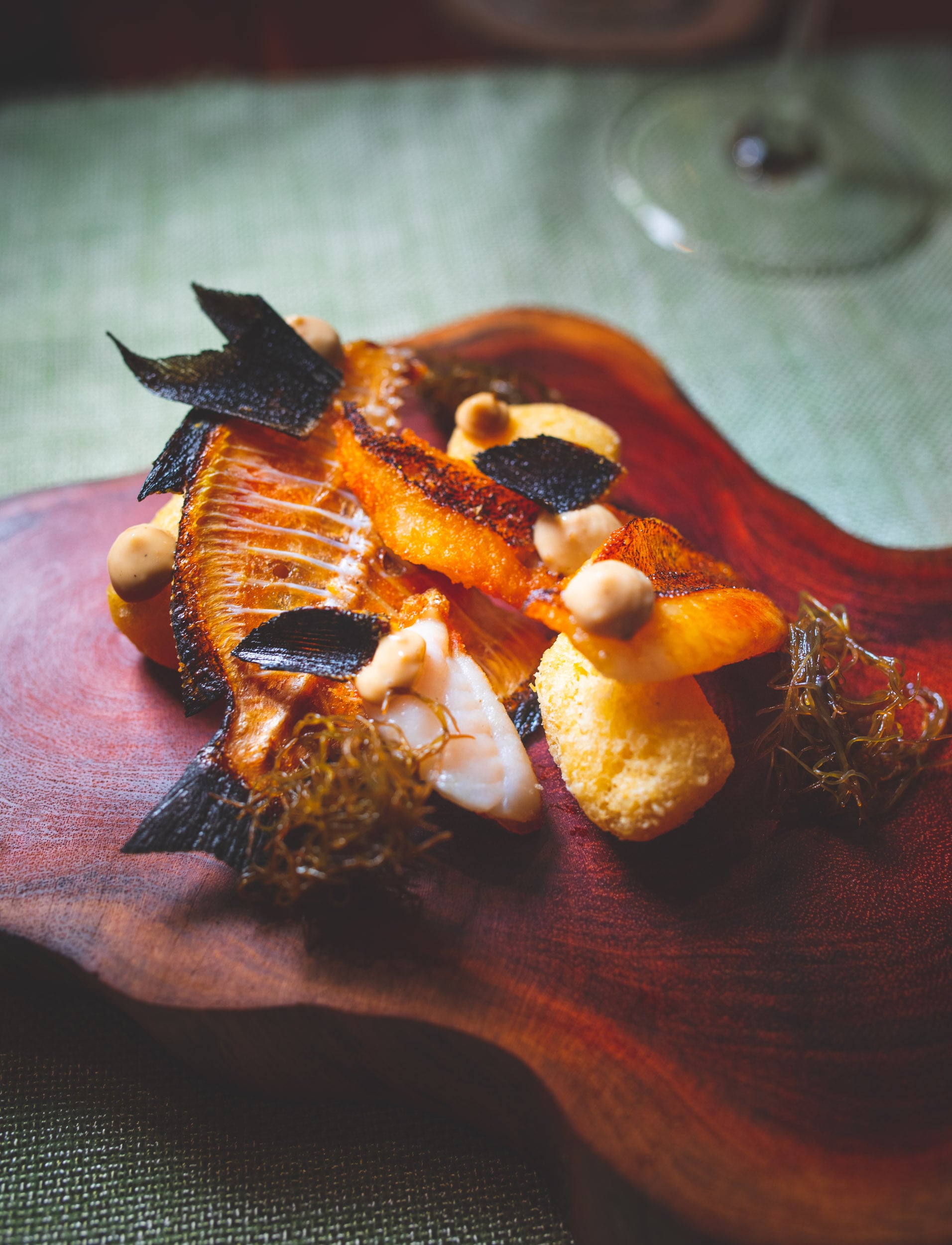 Kole Fish Chips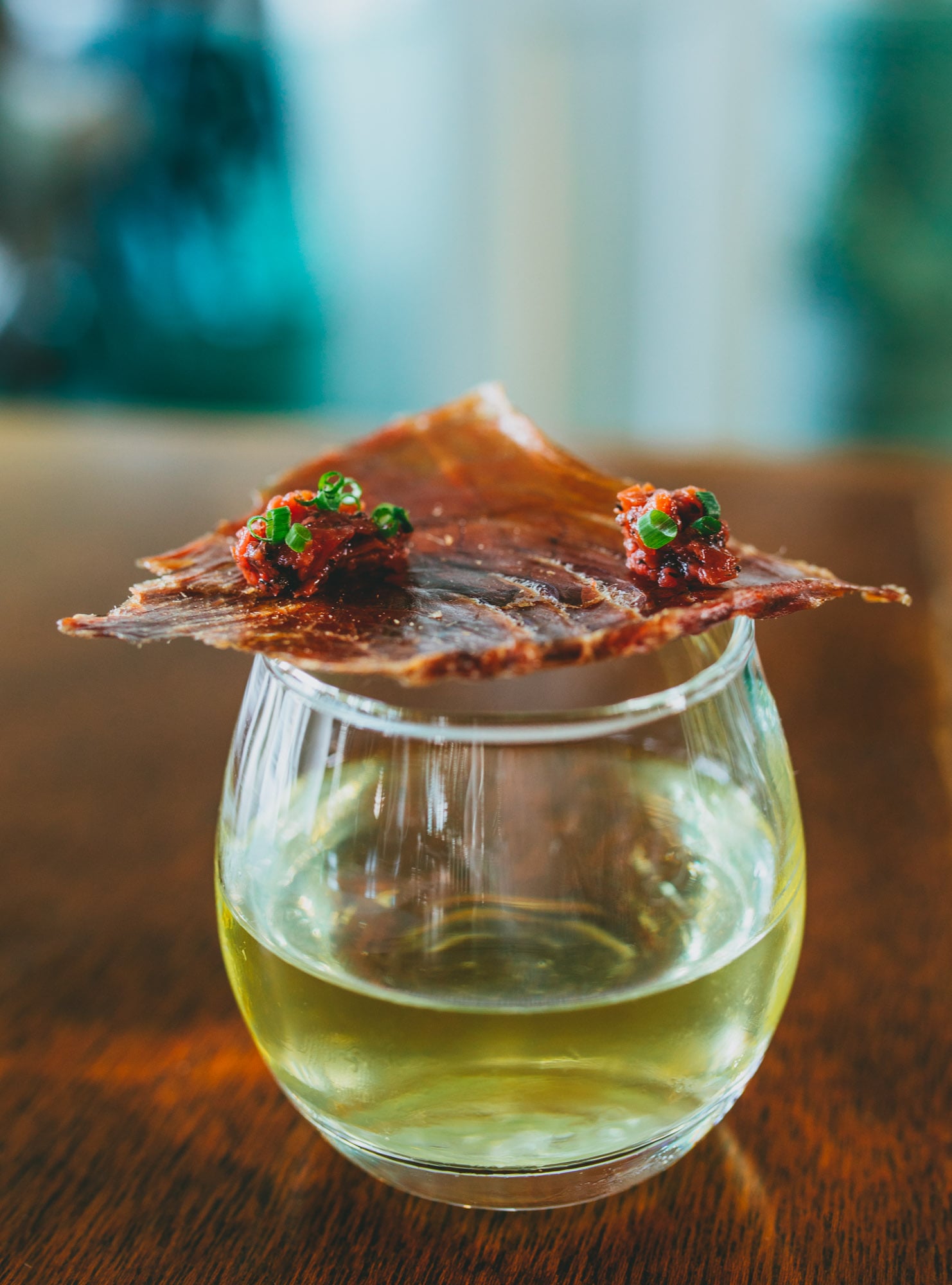 AkuGlass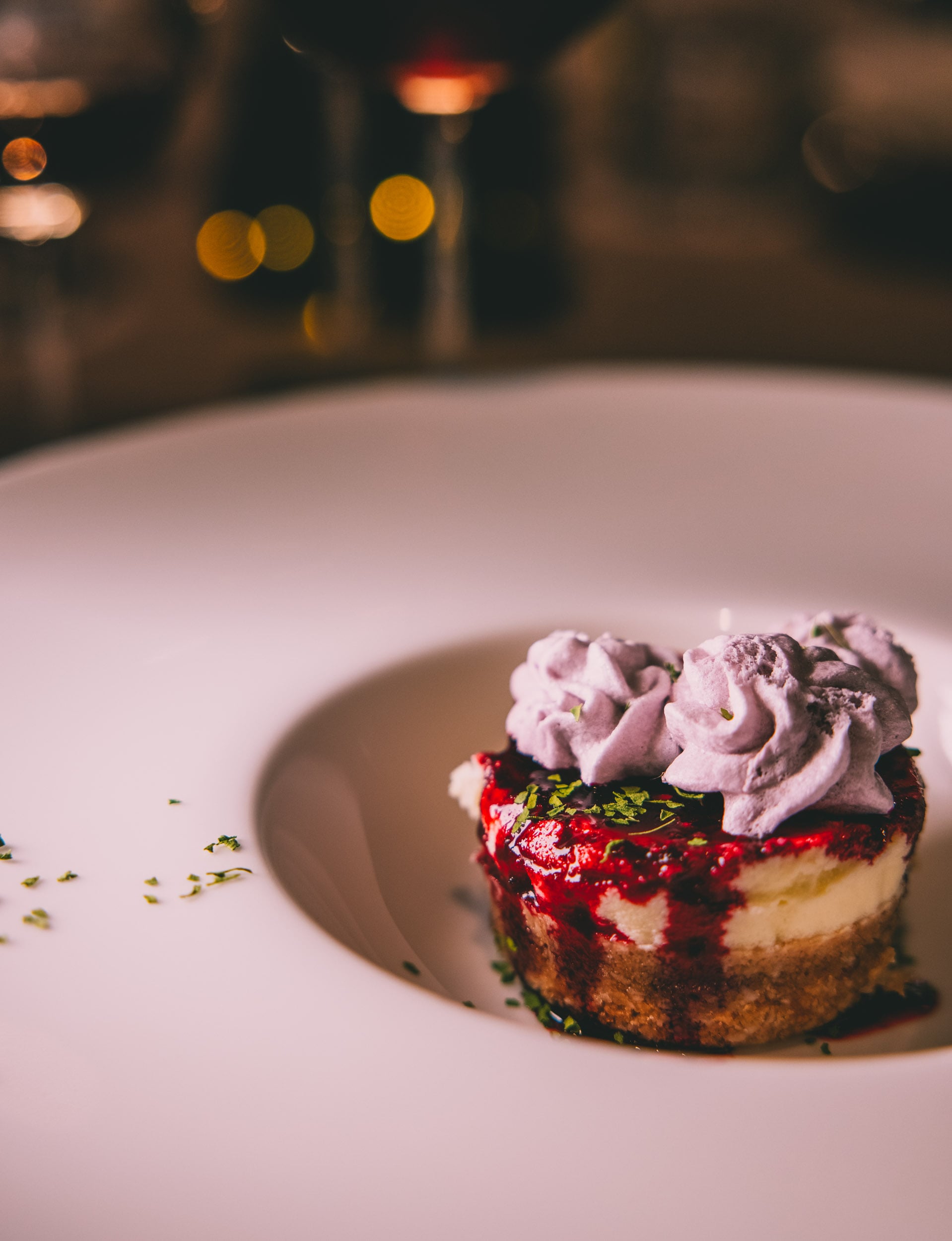 `ĀkalaBerryGoatCheesecake
How do you avoid resource depletion when you are sourcing ingredients for your pop-up dinners?
There are certain ingredients you might see through our social media account and then you will not see it for a long time because the ingredient is so limited that I do not want to overuse the ingredient to the point where we are depleting wild stock. When I take my chefs out to forage, I make sure they know we are going to harvest these ingredients and be conscientious. An example is the kūpe'e, nocturnal sea snails. This is an ingredient that I only harvest once a year. For ingredients like kūpe'e, only a few lucky people nowadays can taste this whereas it was a more common ingredient in the past. I think environmental damage and shoreline overdevelopment has impacted certain ingredients and it's a tough balancing act.
Other than personal regulation, are there other guidelines you use to control your sourcing of ingredients?
An example is with the local wana (long spined sea urchins). I only harvest these in August and September when the gonads are the largest. In this sense, I follow the Hawaiian fishing calendar where Hawaiians would only harvest the wana when the lauhala tree was fruiting, which was around the months of August and September.
With a constantly changing, hyper-seasonal menu, are there dishes that guests can enjoy epitomizing the spirit of Na'au Hilo?
One dish we are able to do consistently is our Rainforest Salad where we take two wild foraged ingredients and prepare them utilizing two different cooking techniques. I think this showcases wild ingredients found in native rainforests and our most obvious connection between ingredients and what we are doing. With each course we do, I try to be thoughtful to best highlight the ingredient and keep things to a minimum so, if this is the first time someone is trying the ingredient, it can be the most unadulterated version while still being delicious. The food is a platform for a discussion with people, so they become more aware of what is happening in Hawai'i. In this sense, it is a chance to discuss environmental issues. We are trying to inform the public through a platform of food, so I'm really proud of that and what we're trying to do. We do not have a large budget. We are kind of grassroots and gaining a lot of momentum.
What are some goals that you have for your Na'au Hilo project for the coming year?
A goal is to eventually acquire our own spot. We have not found anything that felt like the right decision to pull the trigger on. That is why we have been so nomadic with private dinners. I am hoping that something promising shows up in 2023.
If you had an entire day off, what would your perfect day be like?
A perfect day would start in the early morning hours with night fishing and, if sleep were not a factor, I would continue my day by hunting in the afternoon. I have done that in the past and those kinds of days are my perfect days.
As Chef Hirata's Na'au Hilo continues to grow, so will the opportunity for more guests to experience the unique dining experience he creates via his thoughtful menus and carefully sourced ingredients. You can learn more about his popup dinners or private dinners at naauhilo.com, where you can also enjoy a collection of videos that highlight native ingredients, featured dishes and local businesses.