At Mauna Kea Resort, it all begins with Aloha.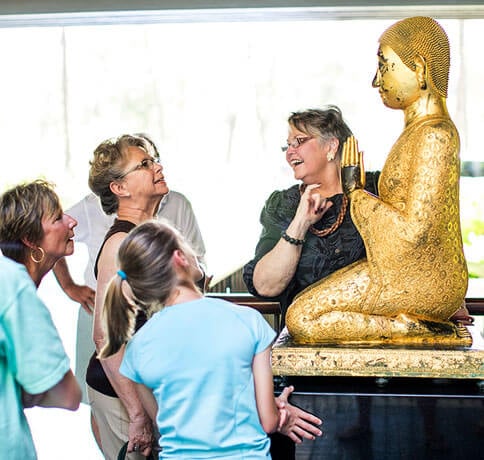 Art Tour
Hundreds of museum-quality art objects from the Pacific and Asia are displayed throughout Mauna Kea Beach Hotel, collected by hotel founder Laurance S. Rockefeller. The expansive collection spotlights Pacific Rim culture and spirituality, from Ainu kimono and glittery Thai icons to Maori canoe prows, bronze Indian chests, and wooden carvings. Hawaiian culture is also featured prominently through displays of traditional kapa (pounded bark) cloth, Hawaiian quilts, and kii (wooden images).
Art pieces are positioned informally throughout the hotel and grounds, where guests can discover and experience them up close. A complimentary 75-minute art tour begins in the hotel lobby each Saturday morning at 9:00 a.m. and shares more detail about the collection and its history.
For a self-guided art tour, please tune into our podcast here.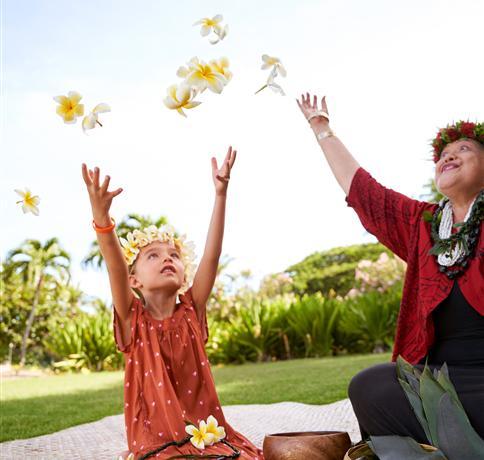 Hawai'i Culture
Join Aloha Ambassador, Healani Kimitete-Ah Mow, at Mauna Kea Resort as she shares the rich customs and culture of the Hawaiian Islands. Guests may participate in lei making, basic hula, Hawaiian Language classes, and more. Healani shares the history and beauty of these and other traditions of Hawaiʻi while imparting the importance of keeping Hawaiʻi's culture alive, vibrant, and integral to every visitor's trip to our island home.
More Information