It all begins and ends with Aloha.
At Mauna Kea Resort, the hotels sit adjacent to two award-winning beaches and some of the best places to explore culture on island. On the sands of Kaunaʻoa Bay is the namesake of the bay as a twiny, orange vine grows as one of the only places on the island of Hawaiʻi to gather Kaunaʻoa.
This special location expands with Hāpuna Beach where aliʻi would surf the breaks and enjoy their time at both beaches in the water. Within the ahupuaʻa (land division) of ʻOuli, Mauna Kea Resort proudly continues its tradition by offering, showcasing, and teaching guests of the history of these special beaches.
It's why every morning at either beach, guests can find our Aloha Ambassador on the sand chanting E Ala E to the sun into the sky as native Hawaiian ancestors did, welcoming and setting the intentions for the day.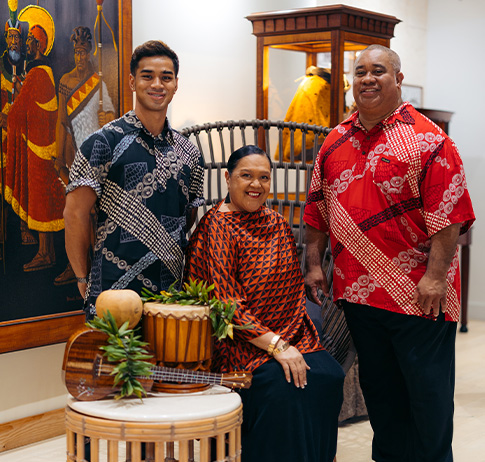 ʻOLI CLASS
ʻOli or Hawaiian chant is delivered with no musical instruments using solely the leo (voice) of a chanter or chanters and used in a multide of ways within Hawaiian culture. From asking permission to seeking guidance and understanding, the ʻoli is how the kānaka maoli (Native Hawaiians) would interact with other people and the natural world. Learn the basics of ʻoli and the proper way to chant in Hawaiian.
NA HULU
Traditional Hawaiian hulu (feather) is the art of using feathers to create both wearable and non-wearable art. Traditionally, hulu work started by collecting feathers of the birds by trapping them with sap placed the trees and plucking a few feathers off a bird until there were enough. The artform then transformed the feathers into artistry as either feather capework, lei, helmets, or even kāhili (feather standards). Learn the basic of of featherwork in our class by creating a hairpiece.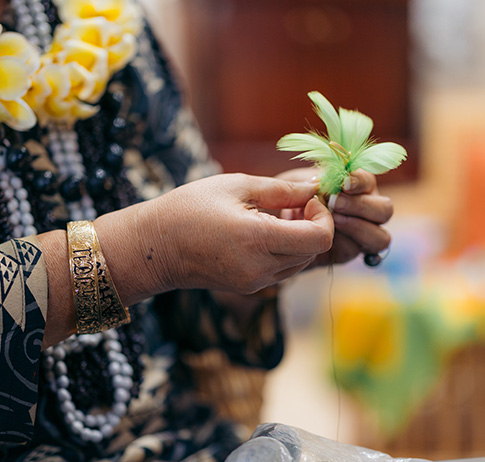 KUPEʻE
A traditional bracelet or anklet made of ti leaf, shells, or other native material, often used in hula as adornments while dancing, learn how to make a simple kukui nut kūpeʻe.
UKULELE LESSONS
Named for the fingertips moving with speed as though a flea jumping, the ʻukulele is a staple in the Hawaiian Islands as an instrument used in all genres of music. Learn to play this four string instrument with some classic island favorites.