Two full-sized bocce ball courts perfect for an outdoor activity.
Located directly outside of Mauna Kea Beach Hotel's Number Three restaurant, the two bocce courts and usage are complimentary for all Mauna Kea Beach Hotel and The Westin Hapuna Beach Hotel guests and Mauna Kea Club Members.
For large family bocce events, please pre-arranged date and time with the Mauna Kea Golf Pro Shop.
Contact Mauna Kea Golf Pro Shop at 808-882-5405 for more information regarding court access.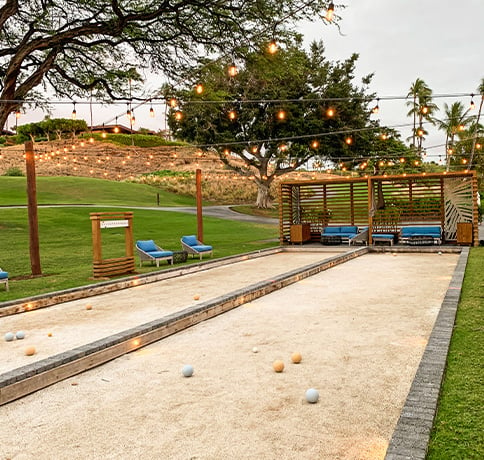 Bocce Ball Rules
Begin by forming two teams of 2-4 players.
One team tosses the "Pallino" (Little Ball) down court.
The same player tosses the first ball.
Teams alternate tossing bocce balls, trying to get closest
to the Pallina or to knock the opponents' balls away.
The closest team scores points for each ball
closer than the opposing team's balls.
The first team to 11 points wins!