Island Inspired
Back to Currents

A mountain shielding a sunset. A wave crossing untouched sand. It's one thing to imagine these scenes in our minds, but it takes incredible skill to transcend the imagination and turn these ideas into tangible images that we can see and touch. Timothy Allan Shafto, an artist using koa wood and resin as his medium, turns our beautiful island home into immaculate works of art. But his work goes beyond representations of the obvious beautiful landscapes of our islands, sometimes veering into more abstract pieces where the wood and paint help to create a piece just as visually stunning as any representation of something literal. Unbound by convention, the artwork takes unexpected twists and turns, some with a piece of wood splitting an image in two to become a diptych, where others might use wood in circles or rectangles to create patterns. There's even the series of resin surrounding a beautiful piece of solid koa, Timothy's homage to the wood itself. Whatever the inspiration, each piece is a unique examination of our island home and the natural resources that make it special.
After honeymooning on Kaua'i, Timothy and his wife Tiffany DeEtte Shafto, of Tiffany's Art Agency, moved to the Islands in 2004 and were instantly enamored by the beauty of Hawaiian koa wood. Koa is a precious material – the trees only grow here in Hawai'i, and have long been revered not only by artists and collectors, but also Native Hawaiians for generations. Meaning "brave" or "warrior," the wood was used by ali'i (Hawaiian royalty) and was for many years kapu (forbidden) for commoners to use. However, over time, forests were converted into pastureland, and koa saw a big decline. The species has been on the recovery ever since, but is still a precious commodity. To source his material, Timothy has built relationships with sawyers over the years who find fallen koa trees, helping the wood find a new life in his art pieces.
His work doesn't only use koa, though, or even wood. Timothy also uses marine grade resin as his paint to create splashes of color and movement that complement and highlight the wood he has selected for each piece. The resin he uses has UV inhibitors that are color fast, so the vibrancy of the colors won't fade over time. Each piece requires multiple rounds and hours of sanding, creating a satiny smooth surface that allows the colors to jump out at you, and the wood to shine. It takes Timothy about twenty two steps to create each piece, not including the totality of his life's journey, which also influences his work. "It's been my whole life process. I've always worked with my hands," he says.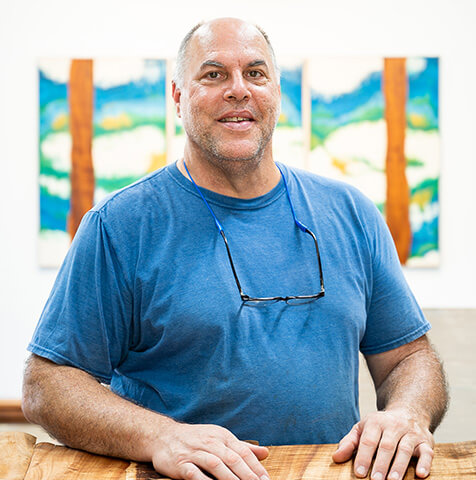 Timothy Allan Shafto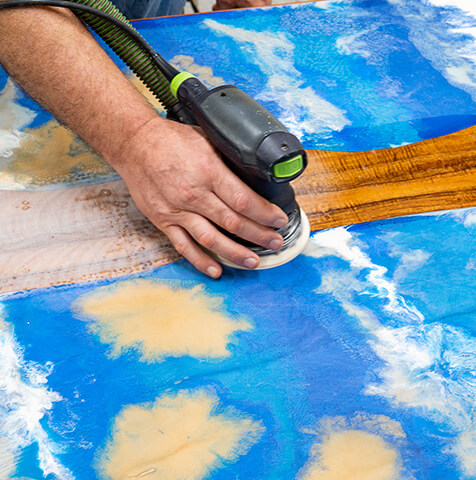 "From the incredible Hawaiian koa wood, to the colors I choose to work with, to the incorporation of sand in some of my pieces, this place inspires every part of me. "
-TIMOTHY ALLAN SHAFTO
Timothy creates his pieces in a studio located within a converted Quonset hut that used to process macadamia nuts along the north Kohala coast, where he says that an idea will hit him, and he is not satisfied until he has a tangible representation of that initial inspiration. He has no cell phone, no email in which to reach him, and instead his wife Tiffany is his main conduit to customers and appreciators. "This is my happy place," he says, surrounded by portions of ancient koa trees and multiple pieces of equipment. "Shut the door and lock me in."
When asked if he misses pieces once they are sold, Timothy shares that for him, it's all about the process. When inspiration strikes, he needs to get into his shop and work on the idea until it reaches completion. He enjoys the experimentation, finding new and different ways to shape the wood, or pour the resin. This allows him to stay creative, and once a piece leaves his studio, he doesn't spend time missing them because "I know there will be more."
Timothy also credits all the amazing people here on the Big Island who have helped him grow as an artist. "All the people I've met along the way have shortened the learning curve. We have an amazing community." That community has also helped his art reach broader and broader audiences. However, before the art goes out into the world, it needs one last final evaluation. Each piece of his art is clean and refined, and must be just right before he considers it complete. But for Timothy, there's one extra step. "Art is not done until it connects with someone else, and for me, that's the best part." All it takes is one glance, and for those who have seen his work in person, connecting with it comes naturally.
Q&A

How did you initially get into woodworking?
Koa. I'd always wanted to do woodworking (had done metal, glass, and stone fabrication previously) and had bought some woodworking tools before we moved to Kaua'i. It was there that we spotted a simple box made from the most beautiful wood we'd ever seen. But my wife (a designer) didn't like the style. So we started by making jewelry boxes together.
How did the process evolve over time from jewelry boxes/furniture to hangable pieces of art?
Our jewelry boxes won awards at our first couple of shows so we decided to keep going. It's led us into furniture, then I got into woodturning and we found a way to collaborate by creating platters with translucent details. We had a show in the lobby of the Four Seasons Resort Hualālai in December of 2013 and I really wanted to try mixed-media paintings with the same resin we used for our platters. A few sold at the show and I've been evolving the paintings ever since.
What do you look for when sourcing the wood for your projects?
The koa I use comes from dead, fallen, and dying trees. It's an endemic wood found nowhere else in the world and leave it to Hawai'i to develop a wood that actually shimmers like a cat's eye gemstone. The depth of figured koa is unparalleled and always inspires me to do my best to honor its beauty.
How do you initially find your inspiration? Does that idea change or evolve over time as you create the piece?
Often there's an idea that won't leave me alone until I get it out of my head—it's the process I enjoy the most. Mother Nature is continuously providing inspiration—from the landscape here to the colors of the sunsets, water, and forests—I do my best to capture the feeling this place creates for me.
My ideas are always changing and evolving. Sometimes a sculpture has to come out. Sometimes a new direction in the paintings. I can't keep doing the same thing every day—it becomes boring. The cool thing about the paintings is that while I can get close to achieving my vision for the piece, the resin moves and does things on its own, which keeps it exciting and fresh for me. I like to say the paintings are 90% me and 10% chance.
What feelings do you hope to evoke in someone through your artwork?
I hope my work brings the viewer/appreciator joy. I hope they find some aspect of themselves that it resonates with and each time they look at it reminds them of a happy time in their lives.
We are lucky to live in Hawai'i. How does our beautiful island home inspire your work?
It's everywhere in my work. From the incredible Hawaiian koa wood, to the colors I choose to work with, to the incorporation of sand in some of my pieces, this place inspires every part of me.
What are some of your influences?
Obviously Mother Nature, but also my wife. After spending eight years in the studio with me, she started an art agency seven years ago representing me and other local artists and often asks me for specific works for shows. It's always fun to make with a location in mind. And sometimes its my collectors. They challenge me with something new and I love working to figure it out and make something that truly speaks to them.
What's something that can instantly identify your work as a Timothy Shafto piece?
The combination of koa wood and resin—and sometimes mango wood or sand. I haven't seen anyone else doing it in this way and I believe it is unique to me.
Looking ahead, how might your work evolve in the future?
Totally unknown. I love doing the paintings. Working with my hands is a way of life for me and I hope it always will be.
What do you want to try next?
Large scale outdoor sculptures. I have ideas…