The Rise of PXG Apparel
Back to Currents

Shortly after entrepreneur Bob Parsons founded Parsons Xtreme Golf in 2014, his breakthrough golf clubs with "a sweet spot the size of Texas" began to turn heads throughout the world of golf. While PXG lacked the clout of decades-old brands, they nonetheless disrupted this centuries-old sport with unparalleled quality, engineering, and performance that quickly became an unmistakable presence on the Tour.
After four years of redefining golf club performance, philanthropist and businesswoman Renee Parsons pioneered PXG's avant-garde apparel line continuing the brand's reputation as boundary breakers. Renee saw an opportunity after years of shopping for golf attire in clubhouses filled with racks of uninspiring slacks and skorts and tired polos. Not to mention the disappointing quality and performance that often didn't match the price tag. Taking a page from Bob's book of success, she followed her instinct to reimagine something better and create it. It was an exciting endeavor and challenge for Renee to pursue what she was passionate about—her love of golf and a healthy obsession with fashion.
In 2018, she designed her first collection that blurred the line between high-performance activewear and high-fashion runway resulting in an extension of the brand that continued to shake tradition with innovation. With the debut of five seasonal collections and another on the way, Renee infused lackluster golf attire of men's polos and women's polo dresses with chic designs of monochrome palettes, A-line skirts, and modern logo taping. It wasn't long before notable personalities and influencers were supplementing their PXG clubs with head-to-toe PXG Apparel looks, making a big splash with golf fans across multiple countries.
Renee's design behind PXG Apparel transcends the greens and sand traps with sports fashion capsules that inspire all modalities of movement and effortlessly transition from activity to activity—whether that be an early morning Pilates class or après golf. Woven into every thread is months of research, development, sourcing, and production. This allows the brand to spearhead new technology, secure state-of-the-art materials, and develop beyond-the-trend, luxury apparel that boosts performance and elevates personal style.
As the President and Executive Creative Director of PXG Apparel, Renee says adieu to the days of uninteresting, stiff, and unflattering golf attire subject only to the country club. PXG Apparel marries fashion with function for ultra-luxe activewear meant to elevate your life on and off the course, and the most recent Spring Summer 2021 Collection showcases this mission perfectly.
Featuring over 80 pieces—a staggering 30 pieces more than last season's capsule—this collection stands as a testament to the success and desire for Renee's creations. Inspired by the landscape of her home state of Arizona and the community's resilience during the past year, this season spotlights bold, powerful designs that evoke confidence and strength. The exclusively PXG Apparel Paratrooper Blue color headlines this season's assortment and signifies the hopefulness of blue skies and wide-open possibilities on the horizon.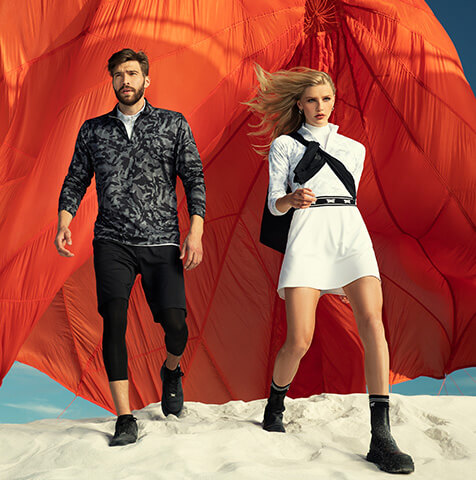 PXG Apparel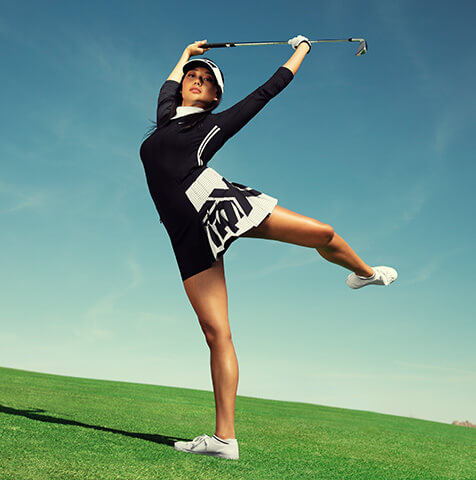 "I want PXG to transcend golf—to move with you on and off the course. That requires a level of attention to colors, fit and style that is unique to PXG apparel, and a new standard in the sports fashion industry. "
- RENEE PARSONS
Anchoring this collection are luxuriously soft, technical fabrics that add refinement to loungewear and edgy details that insert forward style into classic pieces. From fresh PXG logo taping to jacquard knitting, traditional polos and performance jackets get a touch of éclat that elevates much more than game of play. Within this season, Renee displayed an effortless ability to capture what's trending in modern men's and women's fashion while also designing each piece with performance and quality at the forefront.
As a golf-equipment fanatic, Bob Parsons created PXG clubs because he experienced how the smallest improvement in quality lends game-changing results on the course. Without the limitations of time, margins, and price points that typically limit these enhancements for well-established golf brands, Bob set out to do it right. Bob is the "go big or go home" type and wanted noticeable differences that improve performance—changes that are measurable and visible for the golfer like hitting it longer, straighter, lowering their handicap, which ultimately gives the golfer, professional or not, confidence and makes the game much more enjoyable. Renee adopted this same philosophy of uncompromised excellence as she began designing performance-driven gear.
Each new season debuts innovative technology with the most recent collection featuring UPF protection for long days on the course, ergonomic seams that flow with the body's natural movements, and snap plaquettes for a sleek, expert fit. Because PXG controls the production process from sourcing to manufacturing, they ensure that every pocket, seam, and button is meticulously secured to enhance performance, not inhibit it.
Trending toward modern fashion, the Spring Summer 2021 Collection also beckoned in the age of sustainability. Using select recycled yarns from landfill-bound materials such as fishing lines and nylon carpets, Renee engineered eco-friendly fabrics that maintained the breathability, luxe stretch, and softness key to performance. As they gear up to launch their upcoming collection, PXG Apparel has vowed to incorporate expansive sustainability efforts into the heart of their production—a hole-in-one for consumers and the environment.
With this past collection's record-breaking success despite the lingering global pandemic, PXG Apparel is rapidly expanding in number, innovation, and categories. Whether it's the dedication to excellence or the forward-trending style, PXG has allured top talent into the fold, making the debut of the Fall Winter 2021 Collection ever so tantalizing.
Renee's ability to make waves in a world so set in traditions and formalities such as the fashion and golf industries displays her instinctual boldness that parallels the influential core design of PXG Apparel. In a world shaped by hundreds of years of customary codes that govern who hits first, what you wear, and when you speak (which is not during a player's backswing, for newbies), Renee continues to deliver a progressive energy that boldly paves the way for new tradition.
While the extent of golf fashion seems to begin and end every April at the presentation of the famous Green Jacket in Augusta, Renee and PXG Apparel are redefining the idea of iconic activewear one polo, pullover, and side-slit skirt at a time.
Q&A with Renee Parsons, President & Executive Creative Director

You obviously have a fondness for Hawai'i and spend a lot of time here. how has Hawai'i influenced your aesthetic?
Hawai'i has always been a spot I've held very close to my heart, a place that truly is our home away from home. Whether it's the Hawaiian culture, or the natural beauty, I often find myself in awe of its aloha spirit and breathtaking landscapes.
At PXG, our fan-favorite Aloha capsule collection highlights this love of the islands and pays respect to its iconic flora. Featuring hats, polos, and hoodies with a beautiful Hawaiian print, the collection harmonizes our love for both golf and Hawai'i.
What role do you think fashion plays both on and off the golf course?
Fashion is the most natural form of expression: it reflects something of ourselves at a particular time, in a specific place and state of mind. What we wear can enhance our mood, put us in character, and serve as armor for the day or circumstance.
It's no different on the golf course! Many golfers today, from pros to novices, are demanding more from their apparel than just performance...they want something elevated, edgy, and dynamic.
I saw an opportunity for PXG to fill this void in the golf apparel market, to extend beyond that market with apparel which would fashionably fit on or off the course.
Fabrication, fit, fashion, edge, performance—PXG apparel offers it all and sacrifices nothing!
What was your biggest challenge in pioneering PXG's luxury activewear brand?
I learned quickly that the power and establishment of an existing brand could truly be a double-edged sword in a new, but related venture. The recognition and respect that PXG commands in the golf world is significant. PXG is all about performance. Period. And I apply this mantra to PXG Apparel as well.
What has been your proudest moment at the President and Executive Creative Director of PXG Apparel?
I'll never forget the very first collection that I presented to Scottsdale National Golf Club members during a tournament held at the club in 2019. I was just getting my sea legs, to be honest, and the end-to-end process wasn't yet smoothed out. But it was the first tangible, physical manifestation of a dream I had held for so long—there in front of me.
We have the world's best community at SNGC. They are serious golfers, loyal, and an extension of our family in so many ways. I put a small collection of pieces on display at the clubhouse, and everyone went wild for them! The women especially were so excited, and it was just a fun, rewarding experience. Even though we didn't have all the details nailed down, people loved, bought, and were wearing the pieces right away. I knew I was on the right track and that we were on to something.
Golf attire has come a long way, especially for women. What propelled the fashion forward movement in golf for modern styles and better fit?
I started with the idea of simply modernizing the polo dress! Sport technology is improved, and we're making it better with each collection. Design has advanced in every way imaginable, and our manufacturers are top-of-the-line.
I want PXG to transcend golf—to move with you on and off the course. That requires a level of attention to colors, fit and style that is unique to PXG apparel, and a new standard in the sports fashion industry.
What is the driving inspiration behind the upcoming FW21 collection?
We are always inspired and driven by the consumer and wanting to meet their needs and expectations, but more importantly fulfill the desires that they have not yet identified. I don't want to give away too much detail before the launch of FW'21, but we experimented with different fabrications and expanded on key silhouettes while keeping signature details. This collection will have a real urban edge that feels modern and exciting!
What are the hero/signature PXG Apparel pieces that everyone needs to add to their golf attire?
I think it's important to have pieces within your wardrobe that are versatile and dynamic; that can make the transition from the golf course to your everyday life. One of my favorite pieces, the front slit pant, gives a sleek silhouette and can be paired with the performance polo in paratrooper blue for a round of golf, or with the varsity V-neck cardigan and heels for a dinner out with friends.
Other signature pieces include our big logo sleeve sweaters and the PXG hooded jacket. The sweater makes a bold and elegant statement on or off the course, and its lightweight jersey fabrication is not only ultra-soft, but easy to move in. The jacket cinches at the waist and is the perfect outerwear piece to go over any of these looks. Its fabrication is water-resistant, windproof, and breathable ensuring maximum protection and comfort.
As someone who so gracefully and powerfully transitioned from a successful career in hospitality to the world of fashion, what advice do you have for those on the ledge of chasing their dream?
Surround yourself with strong support, but don't shy away from the challenges you may face at the same time. Welcome those tough questions early and often. Take them on with gusto and take them seriously. Poke holes in your ideas and then patch them up before you take the next step. Draw on your experience, listen to your instincts. We are all layered, complicated, nuanced human beings with enormous capacity. Pivots in life are not only unavoidable—they are necessary to evolve and grow. Take the calculated risks, resilience will get you everywhere. Seek out experts and listen to their wisdom.
Act with intention, honesty and purpose. Go get it!
For those who are unfamiliar with PXG Apparel, what should they expect in quality, performance, material?
PXG Apparel marries performance with style, prioritizing both, while sacrificing nothing, which makes us unique in the sports fashion arena. Made for golfers by golfers, the clothes work with you, adjust to your environment, and enhance/enable your activity along the way.
They also look simply great—the women who pair one of our sweaters with a designer heel appreciate the seamlessness with which PXG Apparel carries you through your day with actual style. The men who wear our Fairway Camo pullover appreciate its light fabric, packed with tech features that not only protect you from the sun, but always make sure that you stay fresh and dry, thanks to moisture wicking and quick dry stretch material.
What is your favorite part of the job?
I love collaboration and working with others. It's been so satisfying to build talented teams that are creative, innovative, and excited to challenge themselves with setting a new standard for the golf apparel world. I am amazed at how they have tackled this past year with positivity and perseverance. I look forward to having in-person meetings this next year, but regardless, our company is made up of incredible women and men who are dedicated to constantly pushing boundaries in order to offer the best to our customer.
What are your goals for PXG Apparel?
Our goal is to continue growing our retail presence nationally, while at the same time expanding our international footprint. With upcoming stores in new markets including Dallas, Philadelphia, and South East Florida, as well as expansions focused on Japan and the UK, we want to give more access to our customers to experience firsthand the quality of our products.
What is the best advice you've ever been given?
I like that this is the last question because I can end with what my father told me, which I think is incredible advice for anyone in any position—be direct, get to the point and lead transparently.